Rallycross minichamp event. not with Mini cars.
Before I made all regulation changes we go very fast 3 events, like mini championship in new Rallycorss 1600 cars. So today at 20:00 CET. 2 days for one event than another and than another. Start 12.04 end 18.04. Good luck and have fun. And be careful, this small 1600 is very tricky and AI oponnets too. Level - Hard!
Just wanted to say that I hate rallycross events with a passion. This is bumper cars in comparison to proper rallying. Also, can we have an event that everybody is likely to finish? When 6 out of 8 people don't complete the event it doesn't tell us much.
Agreed that this is not a fair event. RC 1600 AI obviously use traction control or something, there is no much easy way to get out first. Also, they are very aggressive on break points bumping like crazy.
I finished the second event tonight (Finishing 5th of the finale race), and to support Thom, I will do the 3rd, but please, try to focus on funny cars

.
Since the latest DiRT Rally update broke FFB for Logitech wheels when running in rallycross mode and it makes them sound like a broken washing machine, I am not driving in that mode at the moment until it gets fixed, so that is why I haven't even attempted the event this time.

Sorry about that, but I really don't want to damage my wheel.
Yeah, now I know too is AI too strong on Hard Level. I lose on last 10 meters to final, but this one is realy only for fun. I have G27 too and I have same problem as border2001uk. I dont get it, why with update they made that...simply mistake. And I dont drive too much rallycross, but I wanna to try something new in our League. And...yeah...its little shitty

So please forgive me, this one is last

Are you fucking trolling us? Why would you follow up a rallycross event that people complained about with another one? Can't believe someone would create a league just to be a dick to people. Do you really want people in this league?
I think he eared us, he said 'this one is the last'. For me, it means that the ingoing one is the last and he will not do it again

Guess we'll see what's up next
eulPingouin wrote:I think he eared us, he said 'this one is the last'. For me, it means that the ingoing one is the last and he will not do it again  
eulPingouin wrote:I think he eared us, he said 'this one is the last'. For me, it means that the ingoing one is the last and he will not do it again  
Thats exactly what I mean.
So Cavernous - hold your horses please...And just a beat little more culture. Beacouse name of League is - DirtRallyManiacs and Dirt Rally is rallycross and hillclimbing too, You can ecpected events with this ones. But what i say, in rallycross codemasters made a bug with FFB, so I dont wanna try it once again. Hillclimb I dont realy like so I don't wanna to drive.
Next event will be first CHampionship Event in Monte Carlo. After rallycros minichamp we finish, so...its only one more, 2 days RX event, than in results we see who was the best in it and is over for now with RX events.
I know, my english is not perfect...its not good , but...for fun means - for fun not for trollin or something.
Better be prepared to Champs if try something other. i think. For Me thats help to make right decisions.
That's an international league, and english is not native for many of us.
So, if you do not agree with someone, first evaluate the fact that this guy did not explain it right in english, then argue

.
So the Rallycross MiniChampionship is over. Fight between couple of drivers was very equal, just about hudrets of second, woow! I fight with Pingoin and WillB6, axeflex23 fight with GTi-P and Norbert Toth, robnitro, kocurrr and Dani de Juia, they fought a battle outside the podium but equally important.
And the results of last competition was realy important. So here is: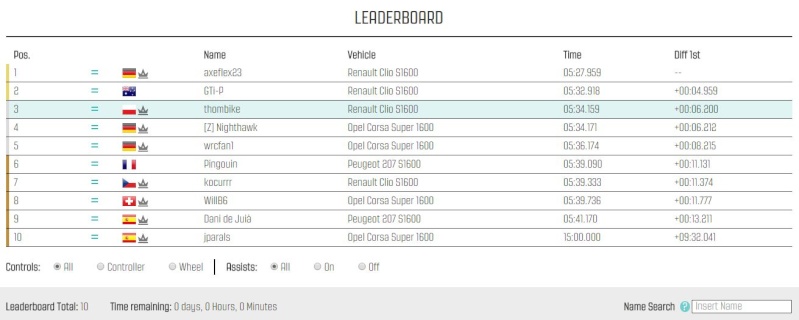 And our mini Rallycross Champion is....

AXEFLEX23!!!!!!!
Congratulations! You are drive this time without assist, so now we know, You are realy good and fast. In Rallycross ofcourse.
Here is full table with overall points result: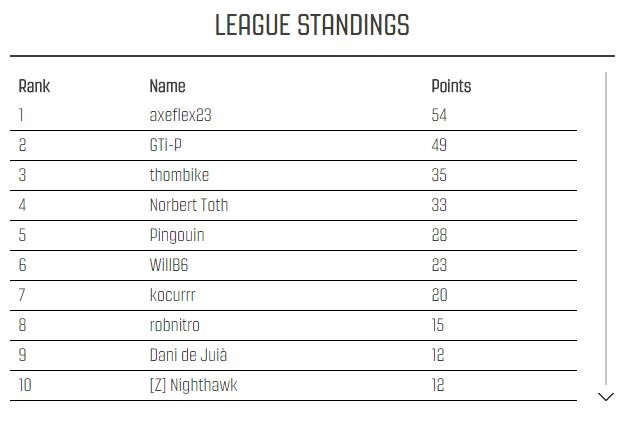 2nd, also, V-ce Champ is GTi-P. Mate, good job! I remember time (not so long ago) You write, are you not too fast, DR is too new for You and You want time to learn all of this. Ok, with assist (wjat realy not help in this event too much) but, see, You have done! Congrats!
3rd...I..so i dont write more. 1st attempt i f...d up as more of us

So 3rd place is, hmm...Good result. I'll be happy if I made this in Rally Champ serie. We see.
So, good work everyone! I hope (i know not every) You have good fun and exciting fight with others. Now, after few days we take off DRM Rally Championship.
See You on track.

---
Permissions in this forum:
You
cannot
reply to topics in this forum